Trying a cigar to determine its benefits in formal tastings is one of the actions we enjoy most in Smoking Seven. Experiencing these sensations that allows us to capture what is perceived through the organs of several of our senses (taste, sight, smell, and touch) and then manifest and share these experiences and impressions for the benefit of all – it is something of utmost importance for our members; which is why we do and share them.
Last Thursday, October 29, we met at the Tobacco & Rum lounge to do the tasting at the 1956 Cezar Bronner Lancero Maduro Cabinet Selection. Below is the summary of it:
Cigar Facts: Cezar Bronner 1956 Lancero Maduro Cabinet Selection
Origin: Dominican
Vitola de Galera: Lancero
Exit Vitola: Lancer
Dimensions: 7 x 38
Layer: San Andres, Mexico
Capote: Dominican Republic
Gut: Dominican Republic
It is in the year 1996 when Eugenio A. Bronner founded this house, after finding the exact point between avant-garde and inheritance, added to the experience and quality of Tabacalera Palma, they develop a product that is positioned in the taste of smokers: An authentic Dominican Cigar .
Renowned for its impeccable manufacturing and its unmistakable leagues. Conceived with MOTIVATION AND PASSION, which are the main conditions that characterize Cezar Bronner cigars.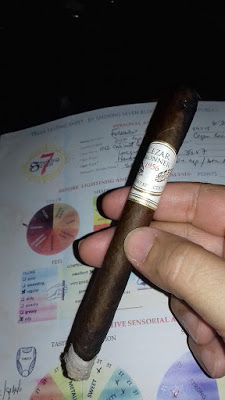 Cigar that wears a red, shiny and silky layer, a little rustic finish finished in pig tails. Cold scents of leather and freshly cut wood, clean cut with double blade guillotine and ignition smoothly with blowtorch, appropriate shot that provides a good amount of dense white smoke.
1st Third – From the beginning it gives earthy notes that are giving way to leather notes, as it passes through the nose it is not very aggressive, as it progresses in this third a spicy sensation that reminds the pepper, gains aggressiveness at the second step by nose highlighting wooden notes, compact white ash. Slight bitter sensation is shown and at the same time it gives way to an acid note in low intensity.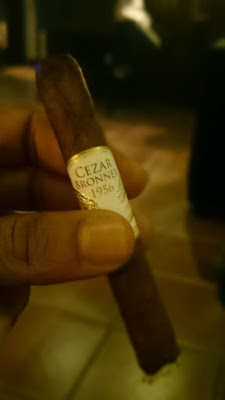 2nd Third – Toasted notes are presented making it more interesting, leather and wood notes are held in this third, as it passes through the nose it is still aggressive, medium strength that threatens to increase, highlights pepper by nose and nuts , certainly increase in strength.
3rd Third – The toasted notes of leather and wood are kept in this third, as it passes through the nose it is still aggressive, strength increases to reach the full range, the pepper per nose stands out, the smoked is maintained and ends with a good balance between pepper, leather, nuts and its high strength range.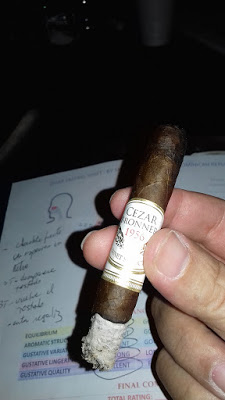 Smoking time: 1 hour 40 minutes approx.
Organoleptic Analysis:
• Balance: good
• Aromatic structure: good
• Taste variation: good
• Termination: medium
• Taste quality: good
Final conclusions: We are facing a spearman of excellent manufacture and very tasty. The cigars that are in this work are generous, well aged and treated. The smoke is expressive, full-bodied, recommended for the expert smoker or the amateur who wants to make a changing, strong-smoking – a cigar that knows well who it is and demonstrates it in aroma, palate, retronasal, and smoke.